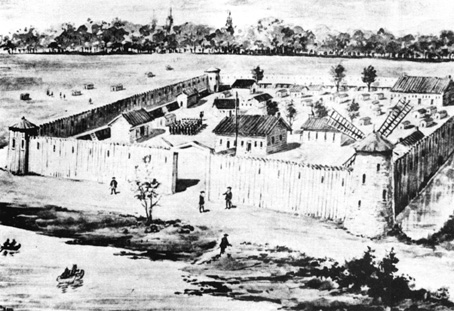 Built in 1671 as Fort Lachine, it came to be known as Fort Remy.  This was in consequence of the important role Pierre Remy played as pastor at the beginning of this community.  On several occassions, our ancestor Guillaume Daoust signed the first church register with Remy.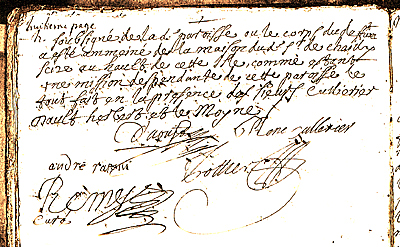 Etabli en 1671 comme Fort Lachine originalement, le nom a été modifié pour Fort Remy. Ce changement d'appellation est dû à Pierre Remy lequel a joué un rôle important en tant que pasteur au début de la communauté.  À plusieurs occasions, notre ancêtre Guillaume Daoust a dû signé le premier régistre avec Remy.

Here is the first entry in the Lachine church register signed by Guillaume Daoust.   Also signing with him were Pierre Remy and Rene Cuillerier who is considered the first citizen of  Lachine.  Over the years the three signed many entries together.  They undoubtedly knew each other well.

Voici le premier document du régistre de l'église de Lachine signé par Guillaume Daoust.   Vous y retrouvez sa signature ainsi que celles de Pierre Remy et René Cuillerier qui est considéré comme premier fondateur de cette paroisse.   Au cours des années, ils ont dû signer plusieurs documents ensemble nous laissant supposer qu'ils se connaissaient bien.

le 15 decembre 1686

December 15th 1683