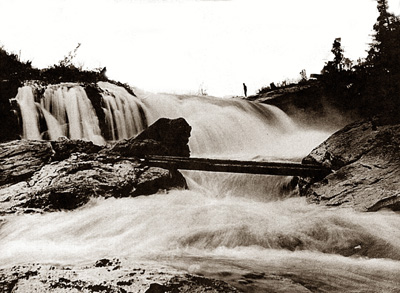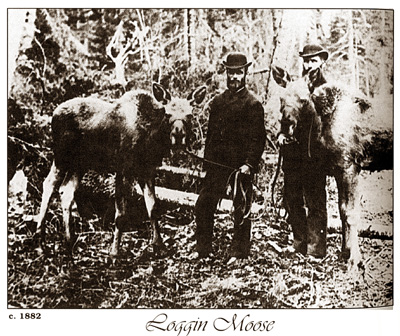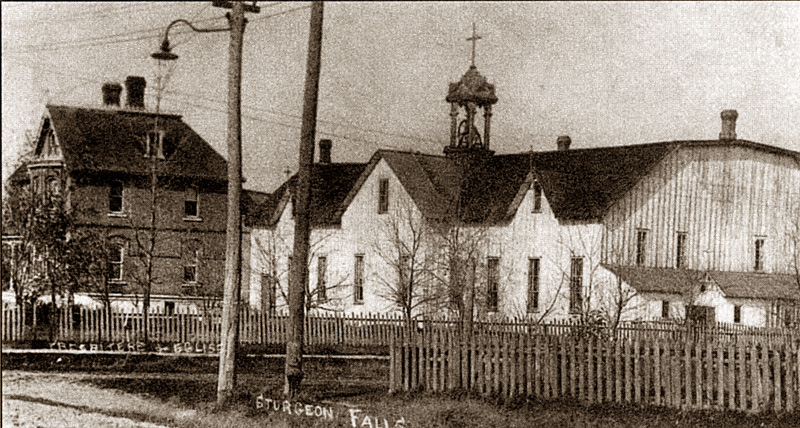 Sturgeon Falls, Ontario

a vu le jour au début des années 1880.  La venue du chemin de fer et l'expension de l'industrie du bois de charpente créèrent cette communauté.  Parmis les premiers arrivants, il y avait Napoléon Daoust, le frère d'Augustin.  Ce dernier, arriva peu après accompagné de sa femme Agnès et leur famille.  On les retrouve dans le recesement de l'Ontario de 1891 à Sturgeon Falls.

had its beginnings in the early 1880s. The coming of the railroad and the booming lumber industry created this community.  Among its first settlers was Napoleon Daoust, the brother of Augustin.  The latter soon followed bringing his wife, Agnes and their family.  They are found here in the Ontario census of 1891.

Ci-haut: Les chûtes qui ont données le nom à la ville - 1910

À gauche: The Queen , le bateau officiel de la compagnie Michaud & Levesque au quai de la Baie Minne Ha-Ha.

Below: The earlest known photo taken in Sturgeon Falls.

La première église du Sacré-Coeur fut détruite en 1910.

Above: The falls that gave the town its name - 1910

On the left: The Queen , the official boat of the Michaud & Levesque Company at the dock in Minne Ha-Ha Bay.

Ci-bas: La plus vieille photo connue de Sturgeon Falls.

The first Sacred Heart church was demolished in 1910.