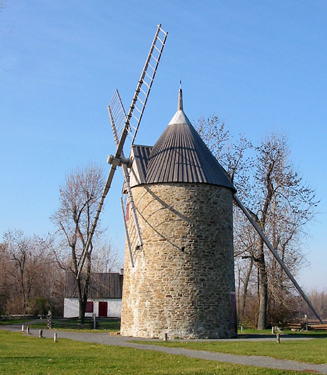 Pointe-du-Moulin

I'ile Perrot


The windmill on Isle Perrot is located on a point that extends quite significantly out into Lake St. Louis.  It was built around 1705 when Joseph Trottier Desruisseaux became Seigneur of the island.
Le moulin avec la maison du meunier a l'arrière.


Le moulin à vent de l`île Perrot est situé a  l'extremitée d'une longue avancée de terre penetrant dans le lac St. Louis.  Il a été construit vers 1705 lorsque Joseph Trottier Desruisseaux est devenu seigneur de l'ile.
The windmill with the miller's house behind it.