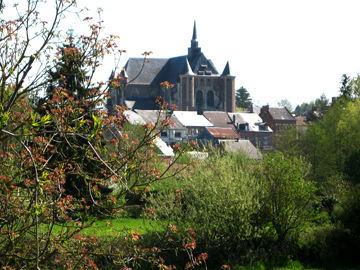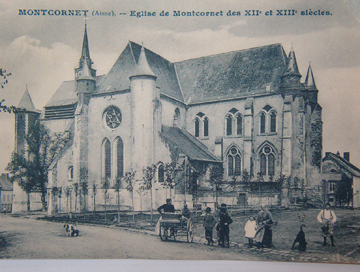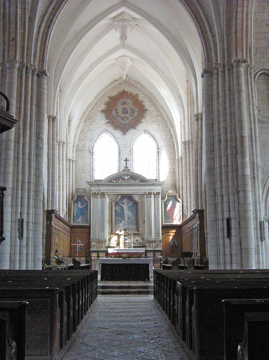 In the 1686 marriage document of Guillaume Daoust, it states that he was the son of Jeanne Aubert, a native of the bourg of Montcornet in Picardie in the diocese of Laon.

In April 2007, I visited this picturesque old town located a few kilometers from Laon.
It is situated in a region known as "La Thierache". Throughout French history the area was subjected to many wars, including the 100 Years War with the English in the 14th century.  In consequence, the region boasts the largest number of fortified churches in the country and Montcornet has the largest one in La Thierache. The church of Notre Dame de l'Esperance built here in the 13th century is in the shape of a Greek Croix and has classic gothic lines. The interior is constructed with white stone which gives it a bright countenance.  The stained glass windows were destroyed by the bombardments that occurred close by in 1940.


Jeanne, Guillaume's mother was born and baptized in this old church. She was also probably married here. Her husband was Nicolas Daoust born in nearby Sissonne.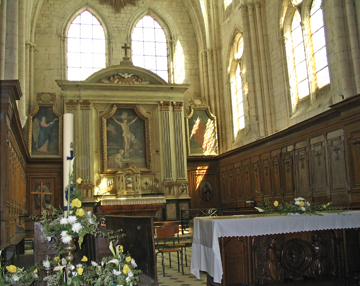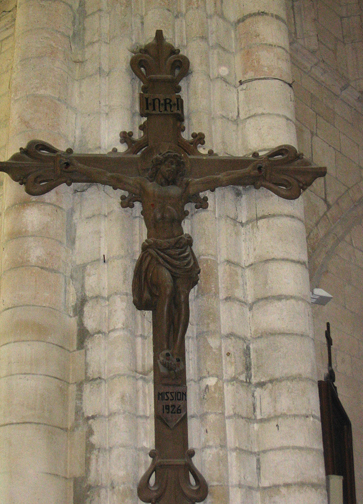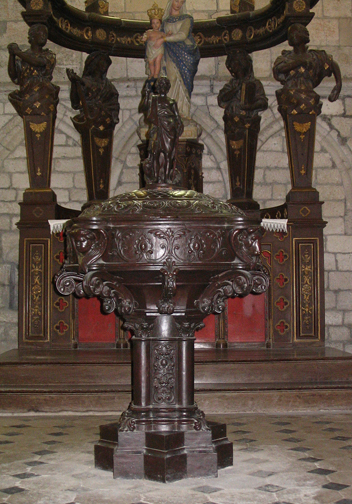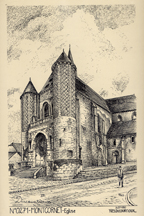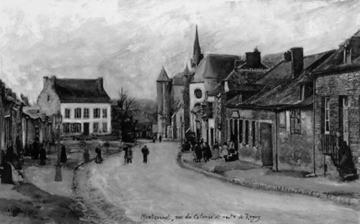 L'acte de mariage de Guillaume Daoust, certifie qu'il fut le fils de Jeanne Aubert, native du bourg de Montcornet dans le diocese de Laon en Picardie.  En avril 2007, Je visitai cette vielle ville pittoresque à quelque kms de Laon.

Montcornet est situé dans une région connue sous le nom de « La Thierache ». Durant l'histoire française, cette région fut soumise à de nombreuses guerres incluant la guerre de 100 ans contre les Anglais au 14e siècle.  Pour cette raison, la région possède le plus grand nombre d'églises fortifiées dans le pays. La plus grande d'entre elles dans la Thierache, se trouve à Montcornet. L'église de Notre-Dame-de-l'Espérance construite ici au 13e siècle prend la forme d'une croix grecque et possède les traits classiques gothiques. L'intérieur est fait de pierres blanches qui lui donnent une grande clarté. Les vitraux furent détruits par les proches bombardements de 1940.

Jeanne, la mêre de Guillaume est née et baptisée dans cette vieille église. Elle se maria probablement dans ce même lieu. Son mari était Nicolas Daoust né à Sissonne