Jean-Baptiste Jamme dit Carrières married Rose Daoust on January 29th 1753.  She was the daughter of our ancestors, Guillaume Daoust and Elisabeth Pilon and the sister of Claude married to Ursule Jamme dit Carrières, her sister-in-law.  Their home built on Côte St. Charles still exists today.  It was in the Daoust family for many years:  Antoine Daoust in 1789, Joseph Daoust in 1820, Jeremie Daoust in 1856.  Although still a beautiful house, it has sadly, lost it's rural setting.  It now stands in a parking lot of a Kirkland Shopping Center.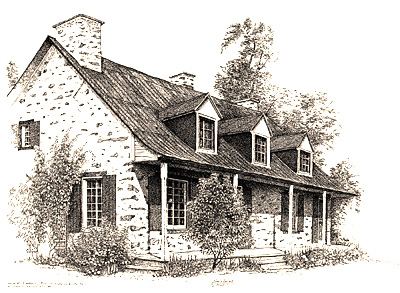 The Jean Baptiste Jamme / Rose Daoust house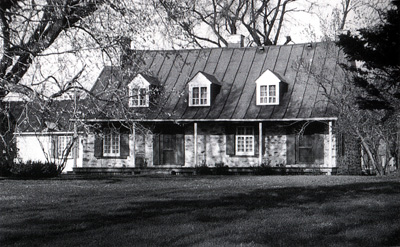 Voici la maison sise en son habitat initial.

Voici la maison maintenant restorée mais malheureusement très mal située.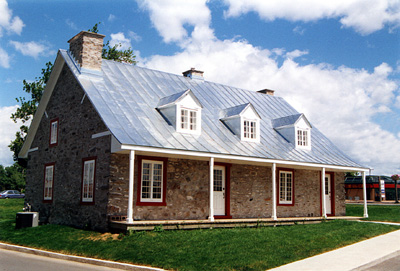 Jean-Baptiste Jamme dit Carrières épousa Rose Daoust le 29 janvier 1753.  Elle était la fille de nos ancêtres Guillaume Daoust et Elisabeth Pilon.  Rose est la soeur de Claude marié avec Ursule Jamme dit Carrières, sa belle-soeur.  Leur maison a été construite sur la côte St- Charles et y est toujours.  Elle a appartenu à la famille Daoust durant plusieurs années:  Antoine Daoust en 1789, Joseph Daoust en 1820, Jérémie Daoust en 1856. Malgré sa belle apparence, elle a perdu le cachet de l'endroit étant située dans un stationnement d'un centre commercial de Kirkland
The house - not so long ago - in it's rural setting.

The house, today, is beautifully restored but is surrounded by ugliness.