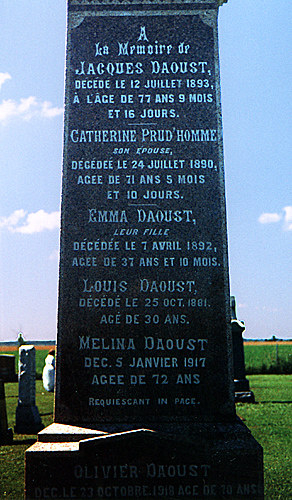 Le cimetière de St-Benoit et la pierre tombale de Jacques Daoust et sa famille.

The Cemetery of St Benoit and the tombstone of Jacques Daoust and his Family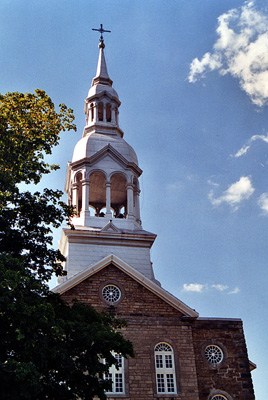 Le cimetière de St-Benoit regroupe plusieurs tombes de la famille Daoust.  Les fils de Claude et Ursule Jamme dit Carrière s'y ont établis au début des années 1800.  Par contre, notre ancêtre Augustin, a préféré s'installer à proximité de St-Eustache contrairement à son frère Guillaume. De nos jours, ses descendants y habitent toujours.

Jacques Daoust, fils de Guillaume et neveu d'Augustin, a son nom gravé ainsi que ceux des membres de sa famille sur une immense pierre tombale.

The Cemetery of St Benoit has several Daoust family tombstones.  The sons of Claude and Ursule Jamme dit Carriere settled here in the early 1800s. Augustin, our direct ancestor did not stay but moved on to nearby St Eustache.  His brother, Guillaume, however remained. His decendants are still here today.

Jacques Daoust, the son of Guillaume and nephew of Augustin has a large gravestone covered on all sides with the names of his family.