La maison de Hyacinthe Jamme dit Carrière The Hyacinthe Jamme dit Carrière house  1780


He was the son of Thomas and Angelique Faucher and was 1st cousin to Ursule Jamme dit Carrière married to Claude Daoust in 1761.  Hyacinthe married Elisabeth Aumay in Pointe Claire in 1760.  On July 24th 1773, he bought property on Côte St. Jean that had once belonged to Thomas Pilon (1722).  The latter was the husband of Marie-Madeleine Daoust, daughter of Guillaume and Marie-Madeleine de Lalonde and great aunt to Claude!!  The stone house on this property was built around 1780.  Purchased by the city of Pointe Claire, the house was declared a heritage building on April 23th 1964; it was extensively restored between the spring of 1968 and September 1969.  It is very likely that Claude Daoust and Ursule Jamme dit Carrière would have visited this house.  They lived close by and Hyacinthe's father Thomas and Ursule's father Jean-Baptiste were the only two sons of Pierre and Marie-Madeleine Barbary; close family ties probably existed!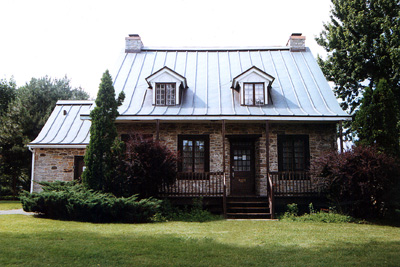 Hyacinthe Jamme dit Carrière

était le fils de Thomas et Angelique Faucher.  Il était le premier cousin d'Ursule Jamme dit Carrière qui s'était marié à Claude Daoust en 1761.  Hyacinthe avait épousé Elisabeth Aumay à Pointe-Claire en 1760.  Le 24 juillet 1773, il a acheté un terrain situé sur la côte St-Jean lequel avait appartenu à Thomas Pilon en 1722.  Ce dernier était l'époux de Marie-Madeleine Daoust, fille de Guillaume et Marie-Madeleine de Lalonde et grande-tante de Claude!!  La maison de pierre avait été érigée sur la propriété vers 1780.  Cette demeure a été achetée par la ville de Pointe-Claire et a été déclarée monument historique le 23 avril 1964. Elle a été entièrement rénovée entre le pringtemps 1968 jusqu'en septembre 1969.  Nous supposons que Claude Daoust et Ursule Jamme dit Carrière avaient visité cette propriété!!  Ils habitaient à proximité. Thomas le père d' Hyacinthe ainsi que le père d'Ursule prénommé Jean-Baptiste étaient les deux seuls fils de Pierre et Marie-Madeleine Barbary. Le tout nous laisse supposer que les liens de famille étaient serrés.

The house as it looks today in the summer of 2001