Evariste Daoust

(1883 - 1943)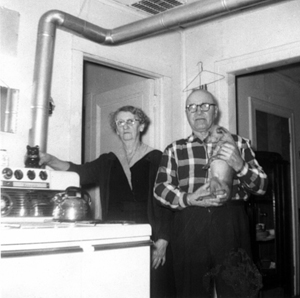 Evariste Daoust et sa femme Alexandrine Bellefeuille

dans leur cuisine à Delson, QC en avril 1960.

Evariste Daoust and his wife, Alexandrine Bellefeuille

in their kitchen in Delson, QC - April 1960.


He was born on June 18, 1890, the 5th  and youngest son of Augustin Daoust and Agnes Grignon.  He spent most of his chdhood in Sturgeon Falls in the county of Nipissing in Ontario.  At the age of 19, he married Alexandrine Bellefeuille at the parish of the Sacred Heart in his home town on april 19, 1909. They had one daughter, Yvette (born in 1910).

In 1905, Augustin Daoust, his father had about 270 acres (closer to 262 acres) in a rectangle enclosed by the south shore of the Sturgeon River and the present day Roy Street and Quesnel Road in the town of Sturgeon. I don't know the dates when Augustin acquired this parcel of land but I do have the dates that he sold some of it to his sons (for $1).  Many transactions were done pertaining to this land between Augustin and his sons, Philias, Albert, Auguste and Evariste (and among themselves). nly son not involved was the oldest, Paulus but I suspect it was because he was already living in the Noelville area. Ultimately, Evariste acquired all the land which he then sold before moving to Quebec.

Evariste was considered one of the first citizens of Delson near Laprairie on the south shore of Montreal.  In the later years of his life, he had a workshp by his home where he repaired electric motors. I'm not sure, if he was a machinist all his life.

He passed away in the mid 70s.

Né le 8 juin 1890, 5e et dernier fils d'Augustin Daoust et d'Agnes Grignon. Il a passé la majorité de son enfance à Sturgeon Falls dans le comté de Nipissing en Ontario. Le 19 avril 1909, il maria Alexandrine Bellefeuille dans la paroisse du Sacré Cur dans sa ville natale.  Ils eurent une fille, Yvette, née en 1910.

En 1905, Augustin Daoust, son père possédait environs 270 acres (plus près de 262) délimité par la rive sud de la rivière Sturgeon, par la rue Roy et par le chemin Quesnel à Sturgeon. Je ne sais pas quand Augustin acheta ce terrain mais les dates où il en a vendu une partie à ses fils ( pour 1$) sont connus. Plusieurs transactions concernant ce terrain ont été réalisées entre Augustin et ses fils (Philias, Albert, Auguste et Evariste) et entre eux. Le seule fils non impliqué fut le plus vieux, Paulus, mais je suspecte que c'est parcequ'il vivait déjà dans la région de Noëlville. Finalement, Evariste acquérit tout le terrain, puis le vendit avant de démenager au Québec.

Evariste est considéré comme un des premiers citoyens de Delson, près de Laprairie, sur la banlieue sud de Montréal.

Vers la fin de sa vie, il possédait un atelier à côté de sa maison d'où il réparait des moteurs électriques.

Je ne suis pas sur s'il a été un machiniste toute sa vie. Il s'est éteint au milieu des années 1970.