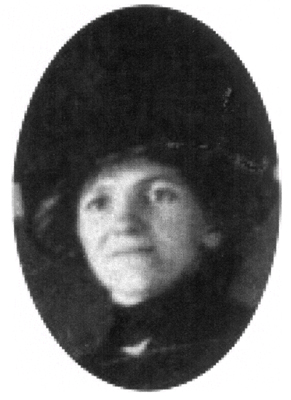 Eva was born in St. Albert, Ontario.  On July 10th 1900 in Sturgeon Falls, she married  Eric Maurice.  They had ten children together.  They lived in Northern Ontario for several years and in such places as Val d'Or, Quebec.  Eric owned and operated the newpaper "La Frontière" of  Noranda, Quebec. 

A family recollection: Eva wore beautiful hats.  She also loved to read. She'd undoubtedly read  "Un homme et son pêché" written by her cousin, Claude Henri Grignon.  She never missed an episode on the radio of the "Les belles histoire d'en haut" based on the forementioned novel.  She passed away in Joliette, Quebec.  Her daughter, Thérèse, is the mother of  Yves Beauchemin, a notable Quebec writer who has written such novels as "Le Matou"!

Eva  est née à St-Albert en Ontario. Le 10 juillet elle s'est mariée à Eric Maurice à  Sturgeon Falls et ils ont donné naissance à dix enfants. La famille a habité plusieurs années au nord de l'Ontario avant de s'installer à Val d'Or au Québec.  Eric est devenu propriétaire du journal: "La Frontière" de Noranda.

Eva portait toujours de beaux chapeaux!!  Nous savons qu'elle aimait beaucoup lire dont le livre intitulé: Un homme et son péché écrit par son cousin, Claude Henri Grignon.  Elle n'a jamais raté une des émissions de radio: "Les belles histoires d'en haut" basées sur le roman devenu "best seller"!  Elle est morte dans la ville de Joliette, Quebec.  Sa fille Thérèse est la mère d`Yves Beauchemin, écrivain connu au Quebec grâce aux succès de ses romans tel: "Le Matou"!