Ma propre famille au 300ème anniversaire

My immediate family at the 300th anniversary


De gauch à droite: mes soeurs Yvette en costume et Yvonne,  moi jouant Guillaume, ma nièce Olivia,  fille de Nicole à droite. Mon neveu, Alex est derrière Nicole et ma nièce Erin également à son côté. Finalement, mon neveu James et John le mari d'Yvonne.

From the left, my sisters Yvette in costume and Yvonne then myself as Guillaume, my niece Olivia, the daughter of Nicole to the right. My nephew Alex is behind Nicole and my niece Erin is on her other side. Finally my nephew James and John the husband of Yvonne.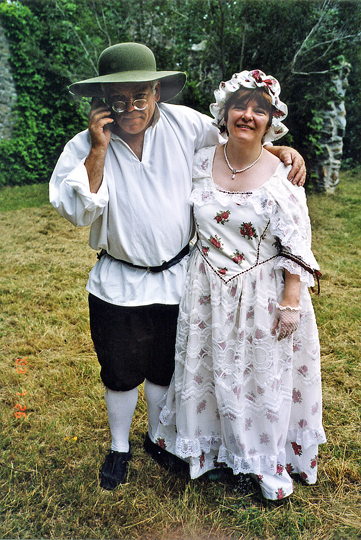 Ma soeur Yvette adorait créé des costumes d'époque  et également les occasions des porté!

My sister, Yvette loved creating period costumes and the occasions when she could wear her creations!