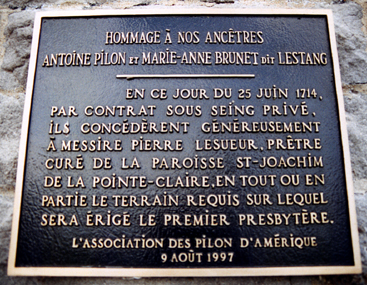 Les PILON de Pointe-Claire

The Pilons in Pointe Claire

On January 22, 1729, Marie-Anne Brunet, the widow of Antoine Pilon gave the land on lot # 154-D and  155-D in Pointe Claire to her son Mathieu. Mathieu would marry Mary Josephe Daoust, the daughter of Guillaume Daoust and Madeleine Lalonde.  In the above document it mentions the Pilon house (still standing today on Lakeshore Drive in the village of Pointe Claire). It was probably built shortly after their acquisition of the land concession in the summer of 1707.  The house would go to their son, Gabriel Pilon.  On December 7, 1799, Pierre the son of Gabriel and Suzanne Meloche inherited the house and property.  Pierre was an Innkeeper / farmer.   In 1826, on July 1st, the land that had belonged to the Pilons for 120 years was sold to W. Glasford, a carpenter.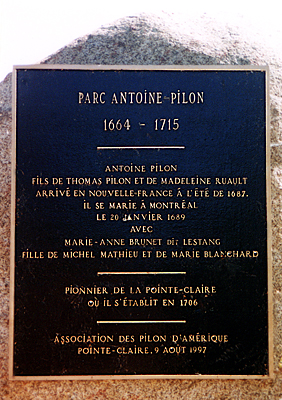 On the wall of the present church of St Joachim of Pointe Claire, one finds the above plaque. It honors Antoine Pilon and his wife Marie-Anne Brunet dit Lestang who on June 25, 1714 donated the land required to build the presbytery to the parish.

Ce monument de pierres dédié à la mémoire d'Antoine Pilon et de son épouse Marie Anne Brunet se retouve dans un parc au bord du lac St - Louis à Pointe - Claire, un peu à l'ouest de la maison Pilon.

Voci quelques sites que j'ai retrouvé sur les Pilon via Internet!

Here are some Pilon related sites I have found:

Le 22 janvier 1729, Marie-Anne Brunet, veuve de Antoine Pilon a fait don des terres numérotées 154-D et 155-D situées à Pointe-Claire à son fils Mathieu.  Il a épousé Marie Josèphe Daoust , fille de Guillaume et Madeleine Lalonde.  Sur ledit document  de 1729, on mentionne la maison Pilon que l'on retrouve de nos jours au village de Pointe Claire sur le boulevard Lakeshore.  Elle a probablement été construite peu après l'acquisition de ces terrains en 1707.  Ils ont légué leur propriété à leur fils Gabriel.  Le 7 décembre 1799, Pierre, le fils de Gabriel et de

Suzanne Meloche en a hérité. Pierre était un fermier-hébergiste.   Le 1er juillet 1826, cette terre qui avait appartenue aux Pilon durant cent vingt ans a été vendue à un menuisier du nom de W. Glasford.

Nous retrouvons une plaque commémorative sur les murs de l'actuelle église de St Joachim. Elle honore Antoine Pilon et sa femme Marie-Anne Brunet dit Lestang qui ont donné cette terre le 25 juin 1714  pour y construire le presbytère.

This plaque, dedicated to Antoine Pilon and his wife, Marie Anne Brunet, is on a stone monument located in a park along the waterfront of Lake St Louis in Pointe Claire a little west of the Pilon house.